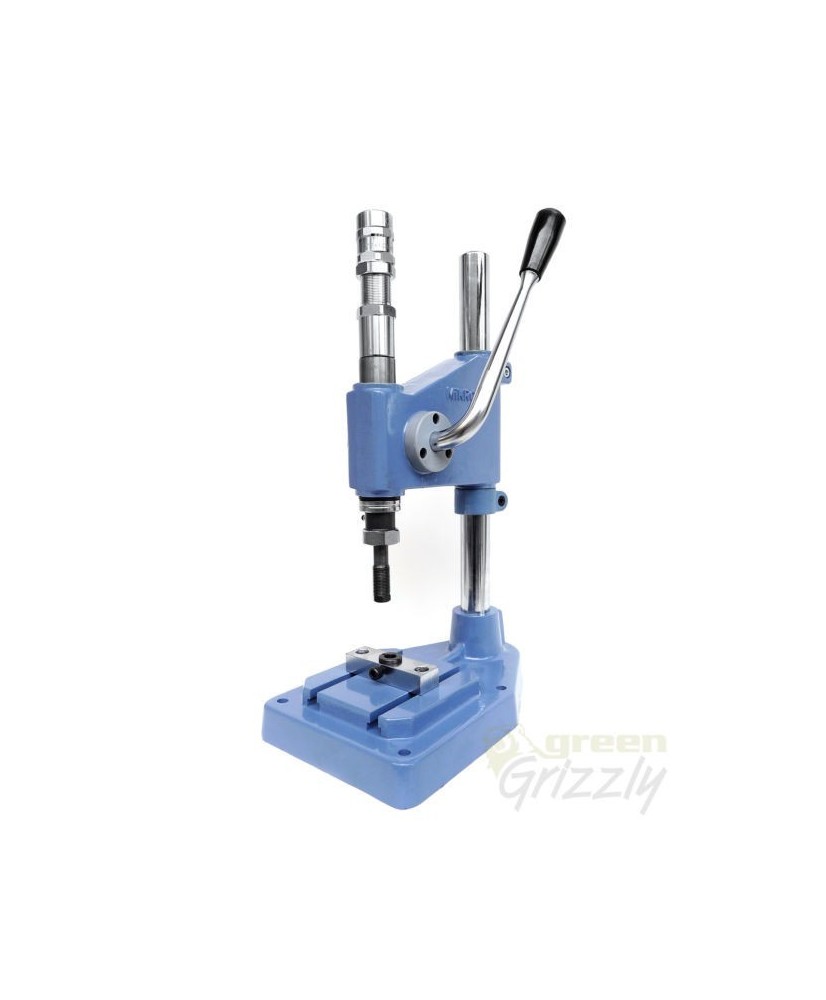  
Profesional stroke press for grommets, rivets, press fasteners, eyelets, AMG
Compatibility with:

- Setting tools for eyelets
- Self piercing eyelets tool
- Setting tools for rivets
- Setting tools for press fasteners
- Punch tools 
- Button Cutter 

Details:

Impact Force:     1800 kgf
Die adapter hole:    1/4"
Height: 520 mm
Width: 200 mm
Depth: 315 mm
Weight: 25kg
Table fixing size: 160 x 160mm
Diameter of the supporting column: 36 mm 

 The DEP-2  Hand Press is the perfect Hand Press for professional usage. It's vertically inclined handle requires less pressure and effort making it very easy to use. This is a  Hand Press for professionals. The DEP-2 is being used worldwide in countless industries including, Signs, Marine, Upholstery, Military, Textile, and Leather Wear. 

Revolutionize the grommet machine process with DEP-2  Hand Press!

  This is the skillfullest machine you can ever find in the market. Specially designed for professional use, grommet machine becomes a cushy job thanks to its stroking feature.

 DEP-2 Advantages:

        Adjustable Impact Force
        Minimum Manual Effort
        Interchangeable Self Piercing Dies 
        Bench Mounted/Free Standing
        Suitable For Numerous Materials
        Heavy Duty Durability
        Parts and Services Available

All the parts of this press, stroking force, dies, height, can be manually adjusted as desired. Indeed the spring system inside the machine can be adjusted through the screw mechanism on the top of the shaft so as to meet the required settings. For a more precise operation, the adjustment flange is to be adjusted so as to center the dies.
The grommet is set in no time and effortless, since the operation is done with the needed stroking pressure depending on the used material and accessory. This is why this press is ideal to set an important quantity of grommet.

This grommet machine is compatible with different kinds of eyelets, in different sizes (self-piercing, sheet metal, rolled rim) and also snaps, rivets and jeans accessories. 
Breaking strength of the product can be varied with respect to individual applications. All details and measurements are offered as reference only and are not to be used as guaranteed performance figures. All items should be tested in their specific application.


No tools/ dies included. 
Customers who bought this product: